Network & Learn: Resilience & Adaptability in a Post Pandemic World
Tuesday, 28 September 2021
18:30 - 20:30
Cambridge
Free for members / £25 + Fees for non-members
COVID-19 changed the way we live and work overnight and highlighted the importance of being able to pivot and adapt to evolve and thrive post-pandemic.
Join us for this interactive event taking place in Cambridge on Tuesday 28th September from 6.30 pm – 8.30 pm at the Graduate Cambridge, to hear first-hand experiences of how experts in their field responded to Covid 19 where they will share their experiences, insights, challenges and how they overcame them during the pandemic.
This event will feature our unique 'Speed Networking with Purpose', facilitated introductions and conversations where you can meet new people, foster relationships and expand your personal network, where we create up to 450 meaningful connections in one evening. If that isn't enough, garden games and drinks will follow
Join us for a glass of bubble and light nibbles kindly provided by our host the Graduate Cambridge and immerse yourself in great company and conversations.
Additional precautions will be made at the event to ensure it is COVID-secure and best practice applied. We have restricted the number of attendees for this event, and networking and games will take place in the garden room and garden (weather dependant).
In this session hear lighting talks on: 
Talk 1: 'Winging it Well'– Charlie McLaughlin, Owner & Creative Director, Little Piggy Catering
Little Piggy Catering is an award winning wedding and event catering company based just outside Cambridge. The company specialises in feasting and grazing menus and offers a relaxed and laid back service style. When COVID-19 hit the phone rang off the hook, the cancellations were rolling in, the full diary of events literally vanished overnight. How did the company survive when hospitality was cancelled? A personal account of a small business surviving a pandemic.
Talk 2: Building a new platform for volunteers in 3 weeks and what learnings we've taken forward Alison Meadows, Co-founder and Joint CEO of Priority Digital Health.
As the Pandemic took hold and PDH adapted to working from home, the Directors of PDH had one goal – that everyone keeps their job and we support each other as a team. So when the call came to develop a new platform to speed up the recruitment and deployment of volunteers throughout Essex, the team instinct for solution-based, agility kicked in and within 3 weeks we were live helping to support 400,000 vulnerable adults. Alison will share how the PDH culture was greatly enhanced by the experiences of 2020 and how the business continues to flourish.
Talk 3: The Power of Words, Katherine Wiid, Career Management Coach, Language and Behavioural Expert Career Ambitions, Recrion
Katherine slotted straight back to coaching virtually when Covid-19 hit. It could have been groundhog day except this time she was much better prepared. In 2008 in the previous economic meltdown, her business was hit hard. In the intervening years she has discovered intriguing things about herself and others. What is driving us to want to do something and not want to do something? How she helps her clients pinpoint their motivation is unusual! As one of just 550 people in the world Katherine is a specialist in listening to language patterns and decoding language using a psycho linguistic conversational tool, the Language and Behavioural (LAB) Profile. Katherine will share her story and tips to help you change your self talk from "I can't" to "YES I can"!
What you will learn and how you will benefit:
How to adapt during tough times
Get out of feeling stuck
Learn from others and hear how they navigated challenges in business and in their career
Build resilience and learn how to pivot at work or in your career
Build your personal network in a fun and upbeat environment
Learn something new!
Who should attend?
Anyone who is looking to build their personal connections, reconnect with others and learn how to build resilience and adaptability in their lives and at work.
Agenda:
18:30 – Check-in, drinks and nibbles
18:50 – Welcome by Founder of the Rising Network, Lily Cheng
18:55 – Welcome by our Host
19:00 – Talks
19:30 – Speed Networking with Purpose
20:00 – Closing remarks by Rising Network Chapter Lead, Rosa dos Santos, MD of Exact Sourcing
20:05 – Garden Games, networking and drinks
20:30 – Event Close
How to book:
The event will take place on Tuesday 28th September and registration will close at 12:00 BST on the 28th September so book before to secure your place.
Price:
Paying members attend for free and included in your membership: Individual, Enterprise and Corporate members
Non-members and Digital subscribers: £25 + fees
Additional precautions will be made at the event to ensure it is COVID-secure and best practice applied. We have restricted the number of attendees for this event, and networking and games will take place in the garden room and garden (weather dependant).
If you have registered for the event, and have COVID symptoms, please get in touch with us immediately by emailing [email protected] to inform us and to cancel your booking.
Getting here and parking:
The event is taking place in the Granta Suite, when you arrive head to reception and you will be directed to the meeting room.
There is limited paid for parking at the Graduate Hotel charged hourly and is available on a first-come-first-served basis. Please note that we are unable to reserve parking spaces. Alternative parking available can be found at the Grand Arcade: https://www.cambridge.gov.uk/grand-arcade-car-park and is a 7 minute walk away.
Not yet a member? View our membership options
Invest in yourself and join for as little as £25 per month to attend events, courses, and workshops, and to access peer to peer through our online community. The Rising Network is here to help you to navigate transitions in life and to help you to create a life and career you love. Join us to unlock free to attend events plus so much more, visit: therisingnetwork.com
Speaker Biographies
About Charlie McLaughlin: Charlie McLaughlin is Owner & Creative Director of Little Piggy Catering. Charlie, a farmer's daughter from Yorkshire, set up Little Piggy Catering in 2011, shortly after her twin boys were born. Little Piggy Catering is now an award winning wedding and event catering company based just outside Cambridge. The company specialises in feasting and grazing menus, offering a relaxed and laid back service style. When she is not in the Kitchen she is usually doing some kind of sporting activity, with or without the children.
About Alison Meadows: Alison Meadows is the Co-founder and Joint CEO of Priority Digital Health. An entrepreneur, business development specialist, business and brand strategist Alison has a passion for digital healthcare innovations. Prior to establishing PDH, Alison enjoyed a 25 year creative agency management career working with b2b, b2c and healthcare brands such as Booker Cash & Carry, Multiyork Furniture, Speedo, Ormiston Families, Johnson & Johnson, Linx Printing Technologies and AllClear Travel.
During that time, Alison led a management buyout to head up the largest agency in the East of England which became one of the most successful award-winning integrated agencies in the UK.
A brand and insight strategist and behaviour change management consultant from 2012, Alison was key to the establishment of the first integrated lifestyle service First for Wellbeing in 2016; integral to development of service model, brand creation and commercial inc marketing/comms strategy and bringing in John for digital strategy and transformation.
Alison went on to establish PDH in 2017 with business partner John Dibb, pursuing a shared interest and passion for preventative healthcare using digital innovations.
Priority Digital Health is an award winning digital healthcare company based in Cambridge with customers in the NHS, Public and Private Healthcare Sector and growing fast. The business is forecast to exceed a £1m turnover for the first time this year and recruiting to take team members up to 15.
About Rosa dos Santos: Rosa, MD of Exact Sourcing started the firm in 2010, an award-winning recruitment agency specialising in high growth markets in the East Anglia region. Having built a successful career with a large high street agency, Rosa wanted to be able to extend her services to clients that were looking for a personal and professional approach to their recruitment. Experienced at attracting talent, building communities and a strong network. Rosa bridges the gap between what you think you need and how you go about finding them by getting under the skin of what you are trying to achieve in your business and by building a good understanding of the key drivers needed for the various positions and how they fit in within your teams. Rosa works with Business Leaders, enabling them to achieve their goals by identifying the best people for their organisation and mentors individuals to discover their dream job by aligning their passions, their experience and skills with their career. Rosas is also a mother of twins, Orson and Heath.
About the Rising Network: We use the power of community to empower women to realise their true potential, and to achieve balance and happiness. We promote good health, gender equality, and access to lifelong learning opportunities through our engaging and creative events, courses, networking, mentoring, peer-to-peer support, and programmes. We want communities to lead our mission and through our Committees and Chapter Lead community, we do just that. We support them behind the scenes. They accelerate progress towards a more gender-equal world by addressing the barriers that keep women from reaching their potential and thriving in their homes, economies, and societies. Learn more and join our social mission here: therisingnetwork.com
About our Host: Graduate Hotels are a hand-crafted collection of hotels that reside in the most dynamic University towns. Graduate Cambridge takes inspiration from hundreds of years of rich university history and tradition, as well as the hotel's beautiful riverfront location. This idyllic retreat feels like an extension of the University, with nods to college architecture and crests and discoveries like the DNA double helix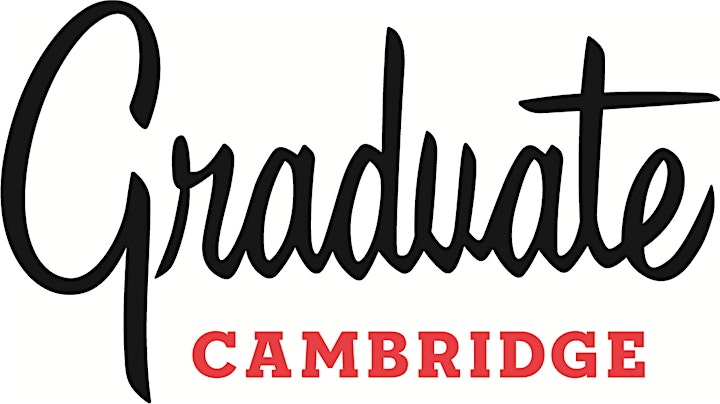 18:30 - Check-in, drinks and nibbles
18:50 - Welcome by the Rising Network & Host
19:00 - Talks
19:30 - Speed Networking with Purpose
20:00 - Garden Games, networking and drinks
20:30 - Event Close